ColumbusCrewSC.com's countdown of the top five moments of 2014 continues with moment number two: the induction of Frankie Hejduk into the club's Circle of Honor and the accompanying 1-0 win over the New England Revolution.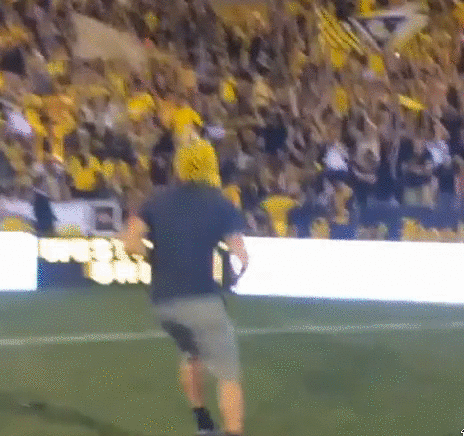 Considering the historic significance of the Circle of Honor, this was another slam-dunk choice for the moments list. Only two players have their names permanently in the upper fascia of Crew Stadium: Brian McBride and now Hejduk, who was officially inducted on September 20 as part of a 1-0 Black & Gold win.
The induction ceremony was distinctly Frankie, with his family and former teammates joining him on the field for the honor. So many elements of the induction were memorable: the tribute video featuring shoutouts from soccer personalites connected to Frankie, the dedicated tifo display in the south stands featuring every jersey he had ever worn with Columbus, and of course, the man of the hour's speech. Take the time to rewatch the full ceremony below:
The bond between Hejduk and Black & Gold supporters is a great example of what makes sports so special. Hejduk's reaction at the end of the video when he jumps into the first row of the Nordecke is all you need to see to get the idea of how special this night was to him.
The Crew did its best to make the night even more special, as Federico Higuaín scored on a free kick-goal minutes after the ceremony ended as well:
As the intro video at the top shows, Steve Clark celebrating with Hejduk on the field is certainly one of the lasting images from this season, and indicitave of why this match makes the list.
With one moment to go, the countdown is as follows:
5. October win at Red Bull Arena
4. Historic comeback at PPL Park
3. Season-sparking explosion against LA
2. Frankie Hejduk enters Circle of Honor
1. ???
There are a lot of options for the top spot, and inevitably, some great moments will be snubbed from the list. What's your top five look like? Drop me a note and stay tuned for the unveil of this season's number-one moment tomorrow.